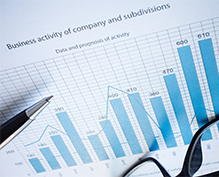 Quarterly Results
Latest Results: FY 2017
The results were released on 5 March 2018
Telecom Egypt announces a potential submarine cable investment opportunity and accordingly approves the amendment of its FY 2017 dividend proposal
27 March 2018
In light of an arising investment opportunity in the submarine cable industry that is expected to maximize the company's returns from the cable business and ensure the continuation of the current revenue stream, the board of directors determined to reduce the earlier proposed dividend for FY 2017 to EGP 0.25 from EGP 1 per share.
Telecom Egypt reports double digit growth across its 2017 P&L
05 March 2018
Telecom Egypt announced today its full year results for 2017 reporting strong growth in revenue of 33% yoy. EBITDA grew 36% and net profit 18% yoy In addition, management proposed a dividend of EGP 1 per share in line with 2016
About Us
Telecom Egypt is the first total telecom operator in Egypt providing all telecom services to its customers including fixed and mobile voice and data services. Telecom Egypt has a long history serving Egyptian customers for over 160 years maintaining a leadership position in the Egyptian telecom market by offering the most advanced technology, reliable infrastructure solutions and the widest network of submarine cables. The company also owns a 45% stake in Vodafone Egypt.