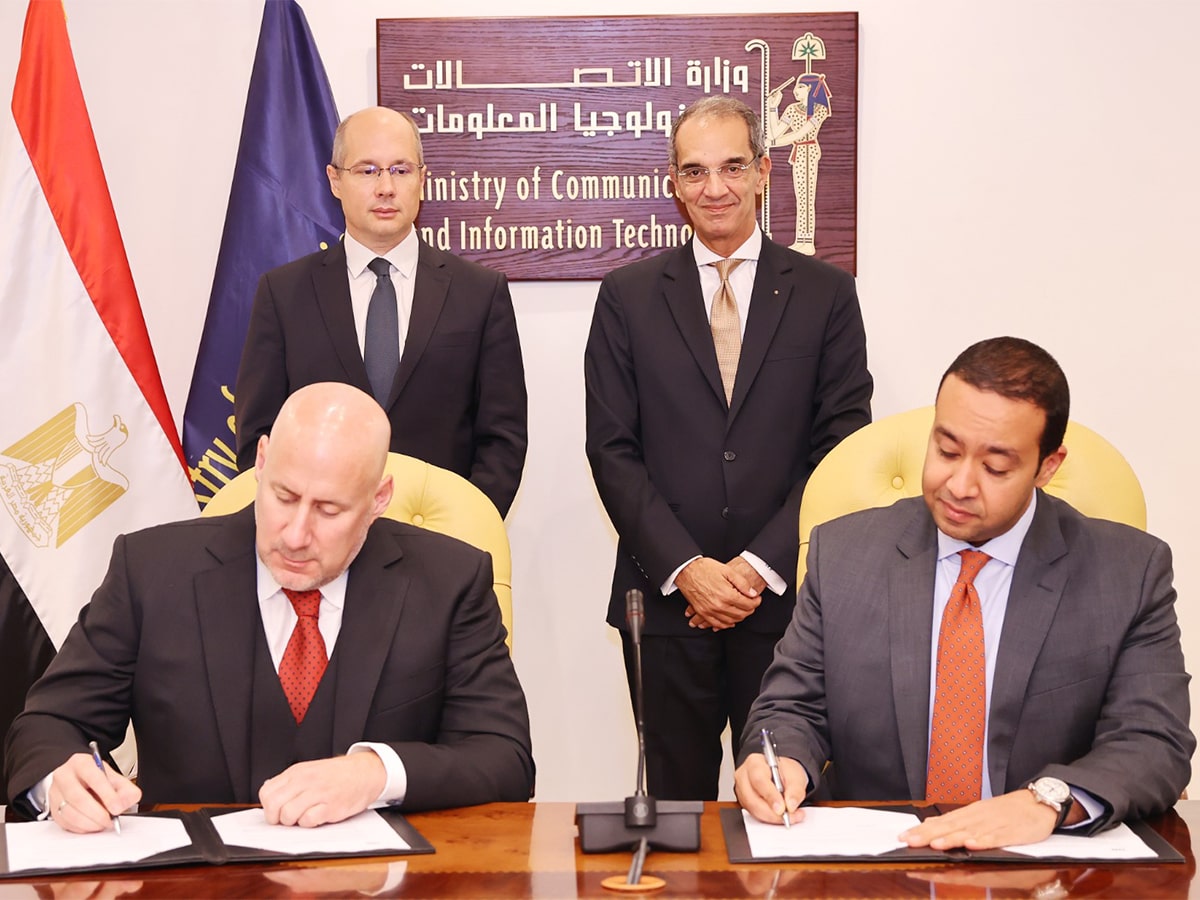 Telecom Egypt and 4iG sign an MoU to construct a high capacity subsea cable between Egypt and Albania
04 October 2023
Telecom Egypt, Egypt's first integrated telecom operator and one of the largest subsea cables operators in the region, and 4iG Plc, the Budapest-based info-communications company in Hungary and the Balkan region, have signed a Memorandum of Understanding (MoU) to link Egypt and Albania via a point-to-point, high capacity subsea cable. With an open access model and multiple branching units, the system is set up to be a new European cable entry point via Albania. It represents a qualitative addition to the existing Mediterranean routes, connecting to the main internet points of presence (PoP) in Europe such as the ones in Budapest, Vienna, and Frankfurt, in addition to numerous potential PoPs in Eastern Europe.
The MoU was signed in Cairo by Mohamed Nasr, Managing Director and Chief Executive Officer at Telecom Egypt, and Gellért Jászai, Chairman of Board of Directors at 4iG Plc. The signing ceremony was witnessed by H.E. Dr. Amr Talaat, Minister of Communications and Information Technology and H.E. Mr. András Kovács, Ambassador of the Republic of Hungary to Egypt, and a host of leaders from the Ministry of Communications and Information Technology and Telecom Egypt.
Dr. Amr Talaat, Minister of Communications and Information Technology, stated:
"The MoU aims to promote cooperation between Egypt and Hungary by constructing a new subsea cable between Egypt and Albania in order to enhance connectivity. He added that the most important pillar in this cooperation is that it comes within the framework of the strategy targeting Eastern Europe with the aim of enhancing business sustainability and future expansions. H.E. pointed out that Egypt is keen to expand its international digital infrastructure, especially as more than 90% of the data transferred between the East and the West passes through Egypt, thanks to its distinguished geographical location. We are currently implementing projects to increase the number of international subsea cables in Egypt. We already have 14 cables, and work is underway to establish 5 new ones through international alliances with prominent industry players."
András Kovács, Ambassador of the Republic of Hungary to Egypt, stated:
"This cooperation agreement is strongly supported by the Republic of Hungary, pointing out that there are ongoing strategic cooperation efforts between Egypt and Hungary at the political level and also in specialized fields. We hope that such agreements would enhance cooperation between the two countries in the field of ICT and help expand governmental collaboration between the Egyptian and the Hungarian Ministries of Communications and Information Technology. These efforts will resonate in the business sector, especially as many Hungarian ICT companies are getting more interested in exploring investment opportunities in Egypt."
Mohamed Nasr, Managing Director and Chief Executive Officer at Telecom Egypt, commented:
"We are pleased to cooperate with 4iG to set the ground for adding a brand new diverse entry point to Europe in Albania, facilitating the routing of the African and Asian traffic to the main Points of Presence in Central and Eastern Europe. This goes in line with Telecom Egypt' strategy to diversify the Mediterranean basin crossing options for our partners via multiple, high-capacity subsea cables linking Egypt and Europe. The planned cable will leverage the newly-launched open and neutral ecosystem, "WeConnect", to enable its direct cross-connection with numerous subsea systems in Egypt."
Gellért Jászai, Chairman of Board of Directors at 4iG, stated:
"The signing of this Memorandum of Understanding with Telecom Egypt represents a significant milestone for 4iG Group. Leveraging our extensive experience in the Central and Eastern European transit business, this partnership marks our entry into a new and strategically important business field: intercontinental connectivity. 4iG Group further aims to strengthen its presence in the regional market with the establishment of a new data gateway in Albania for the Balkans. The expansion of international optical transit routes will create new opportunities for us to cooperate with many countries in the region."
Through this MoU, the two companies aim to gain a significant share of the huge and rapidly-growing market of data traffic between Europe and Asia, and also between Europe and East Africa. It further enables 4iG Group to enter the intercontinental data traffic infrastructure market as a new player, linking between Europe and Asia, and Europe and East Africa.
Albania is privileged with its strategic location as one of the prominent gateways and entry points to Eastern Europe. Backed with a secured cross-borders terrestrial infrastructure, it will facilitate onward connectivity and access to various key destinations.
Telecom Egypt, with an established history of over 165 years, and a vast expertise in pioneering the subsea intercontinental connectivity, is the partner-of-choice for a growing 160 major subsea cable players worldwide. The company spares no effort to develop a varied portfolio of offerings using cutting-edge solutions to keep pace with the increasing global demand for international connectivity and diversity, while providing the shortest and most reliable routes for its global partners. This has been evident through the significant investments Telecom Egypt has made to diversify its subsea cables infrastructures from landing points and cable systems to both terrestrial and subsea routes, whether inside Egypt or in other varied locations worldwide.