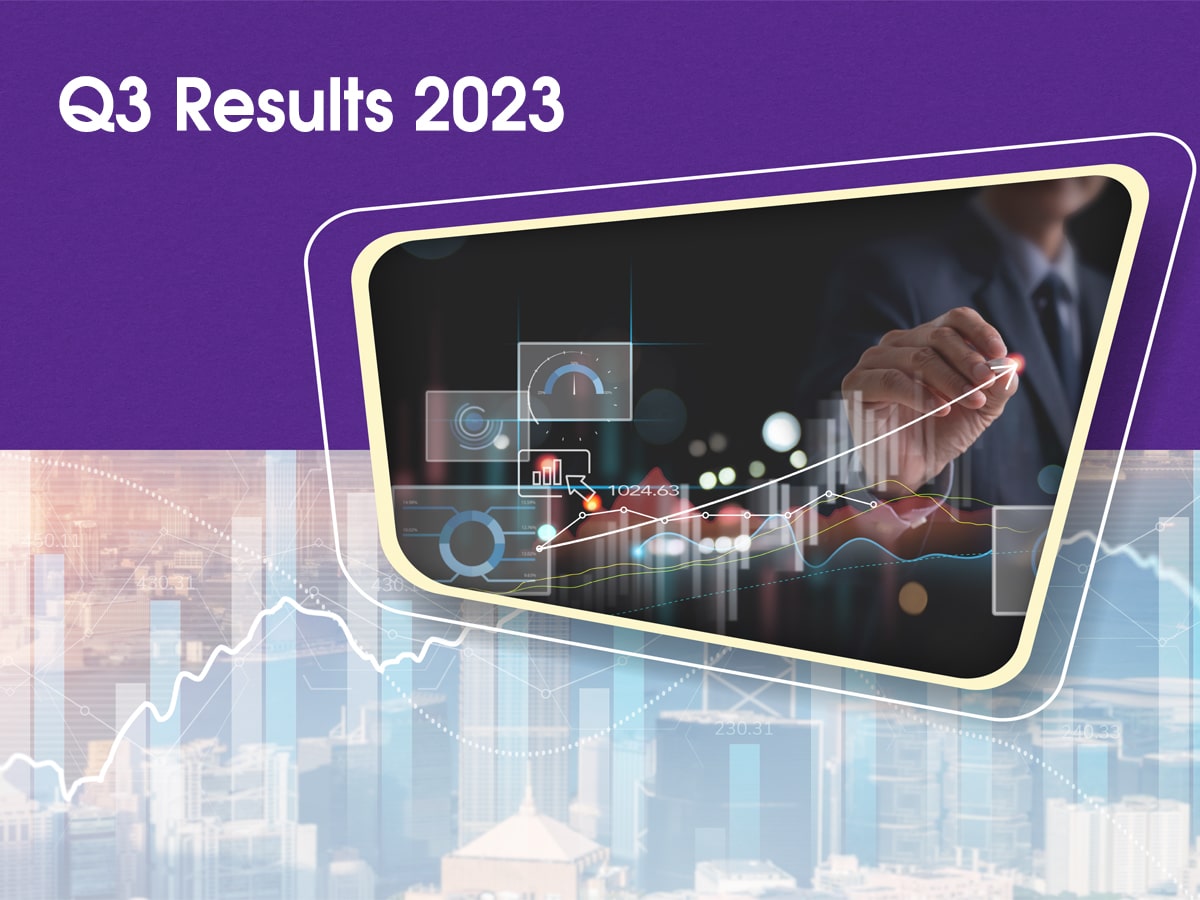 Q3 2023 results: Macro pressure, yet solid performance
14 November 2023
9M 2023 key highlights
Consolidated revenue up 30% YoY, reaching EGP 42.0bn, thanks to IDD revenue, which almost doubled YoY reaching EGP 4.3bn on increased traffic (+12% YoY) and USD appreciation, followed by a 50% YoY increase in cable revenue reaching EGP 3.1bn, and the continuous increase in both fixed and mobile data revenues (+18% YoY, landing at EGP 15.9bn).
Customer base grew on all fronts, with fixed voice reaching 12.4mn subscribers (+9% YoY), fixed data reaching 9.3mn subscribers (+8% YoY), and mobile subscribers reaching 12.5mn (+6% YoY).
EBITDA hiked to EGP 17.6bn, achieving a strong margin of 42% on the back of an improved revenue mix.
Operating profit reached EGP 10.6bn, up 23%, despite the 38% YoY inflation in D&A costs.
Net profit grew 48% YoY, reaching EGP 9.1bn despite 3.7x higher interest expense, driven by the positive operational results and 67% higher investment income that reached EGP 3.4bn.
In-service CapEX reported EGP 11.7bn, implying in-service CapEX/sales of 28%, while cash CapEX reported EGP 18.4bn (including license), implying cash CapEX/sales of 44%. Excluding the license instalments, cash CapEX/sales would reach 37%.
Net debt reached EGP 35.9bn, with net debt/EBITDA on an annualized basis coming in flat at 1.5x vs. 1.4x in FY 2022 despite the 51% upside in gross debt due to foreign currency exposure revaluation.
Net operating cash flow reached EGP 11.4bn. However, FCFF amounted to a negative EGP 2.3bn, mainly due to the increase in vendor payments to secure CapEX and as a mean of hedging against expected FX fluctuations.
Mohamed Nasr, Managing Director and Chief Executive Officer, commented:
"I'm pleased with our 9M 2023 financial results, as we head towards year-end on a strong note. Total revenue amounted to EGP 42.0bn, culminating from good broad-based growth across all business units, and reflecting the value of our consistency in enhancing our services. Retail came through at the top again with EGP 23.2bn in revenue, up 16% YoY, driven by meaningful growth in fixed & mobile data services. Our wholesale also gained traction with EGP 18.8bn in revenue, up a strong 52% YoY. Across the board, we once again recorded an increase in customer numbers. EBITDA margin came in at 41.9% and operating profit grew by 23% YoY.
Our margins remained resilient against the inflationary pressures witnessed across the various cost elements in 9M 2023 (particularly the higher interest expense and currency devaluation), thanks to organic operational performance and continued savings from the national roaming agreement. Management continued to strategically procure and settle its CapEX requirements upfront, as such FCFF was strained, amounting to a negative EGP 2.3bn mainly due to the increase in vendor payments as a mean of hedging against expected FX fluctuations in 2024 and other unforeseeable risks given the current volatile situation in the region.
We continue to innovate and deliver, keeping in mind the rapidly changing needs of our partners and end users. A case in point is the recently launched WeConnect cross-connection ecosystem, which reflects our dedication to focus on our partners' connectivity needs by designing solutions and further developing our well-established infrastructure to create sustainable financial returns and increase our shareholder value.
Looking ahead to 2024, our strategy will be to focus on the pathways that will deliver significant and sustainable profitability. We will pursue and prioritize different growth options and opportunities to monetize our assets, especially U.S. dollar-generated assets, to bring more agility to the investment outlays for our core business, and to manage our operating costs. We will continue to deploy and develop innovative technologies to enhance the business and improve the end-user experience while enhancing our pricing and marketing strategies. I remain confident in our long-term trajectory as we already have the right formula in place for continued success and long-term growth."